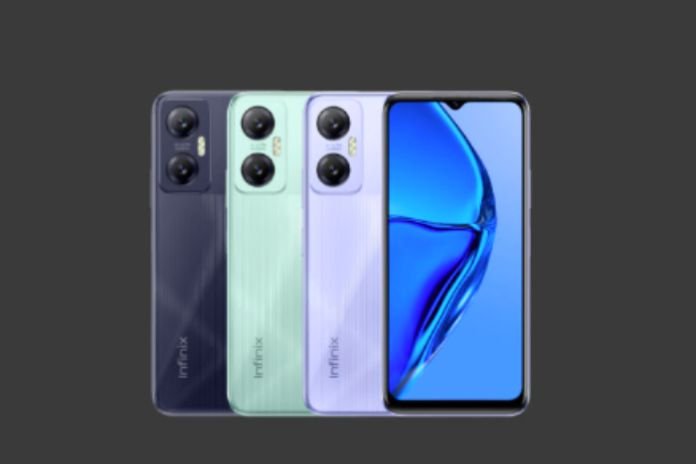 Among the numerous brands of smartphones that we have today, Infinix has been gaining notoriety little by little. Having entered into a partnership with Positivo in 2021 to increase its expansion in Latin America, the brand is yet another that has gained strength by offering suitable, cost-effective devices.
One of its main launches at the end of 2022, the Infinix Hot 20 5G, stood out for precisely this reason. An entry intermediary costing less than 1000 realis? Is he worth it? Check out our review of the device.
Design And Connectivity
The Infinix Hot 20 5G has a design similar to similar phones from other Chinese brands, with a polycarbonate finish and a split that creates different tones in the device's color. The camera module is not limited to the lens part, covering a larger area, such as some smartphones from the POCO line from Xiaomi. In this area in question, it has a smooth texture and color, with the rest of the rear having a wavy texture and a brighter tone when lit. The Hot 20 5G can be purchased in blue, black and green.
We find the "power" and screen lock buttons on their right side and the volume buttons. On the left side, we see the chip and memory card drawer, and at the bottom, there is a P2 connector for headphones, microphone, USB-C port and speaker. As its name implies, it has 5G connectivity, Bluetooth 5.0, WIFI Dual-band 2.4, and NFC and comes with the theandroid12 installed as the operating system.
Screen And Display
It has a 6.6-inch IPS screen with Full HD + resolution, 120 Hz refresh rate, and display with a drop-shaped notch for the front camera. The brightness is reasonable despite not being as strong when placed under sunlight. In general, it is a competent screen, mainly due to its resolution and refresh rate, which, in addition to already having 120 Hz, it has a tactile sensation of 240.
However, an IPS screen with a drop-shaped notch, even for an entry-level cell phone, seems a little outdated – even more so for a 2022 cell phone – and the screen has a slight shade of blue, which may annoy users a little more demanding, especially when staring at the screen for a long time. It is generally a good screen, but it leaves something to be desired in some minor details.
Cameras
Its primary camera has 50 MP with an aperture of 1.6, and the secondary lens has 2 MP, focused for portrait mode. Among its features, the set has dual LED flash, HDR support and 1080p video recording at 30 frames per second. In general, as well as the device's screen, the cameras are pretty decent, although nothing else. Photos and videos with natural sunlight usually reproduce colors well in a clean image, in addition to having the Super Night Mode, which serves as an aid for photos in places with little light.
The front camera has 8 MP, with an aperture of 2.0 and similar features as the rear, having an LED flash and capable of making videos in 1080p with 30 fps. In short, the performance of the front camera also remains similar, within the average of devices of the same level, without any significant highlights. The Hot 20 5G does not disappoint or surprise in this regard cameras, having the essential features that most devices have and with results worthy of a simpler intermediary.
Performance And Battery
The Infinix Hot 20 5G hardware is composed of processor Dimensity 810 by MediaTek, with 4 GB of RAM memory and 128 GB of internal storage, which can be expanded using a microSD card. As an inbound intermediary, its configurations easily handle typical everyday applications such as social networks and messaging apps. In addition, it can run not-so-heavy games with good graphics, such as Asphalt 9, Call of Duty and Free Fire. However, as it does not have fully optimized hardware for fun, the device heats up after a considerable time of playing.
Its battery is one more of the positive aspects within the average, with 5,000 mAh, and it comes with an 18W charger in the box. That is, its battery to last a day of more common uses quietly.
Is Infinix Hot 20 5G Worth It Or Not?
The verdict is that the Infinix Hot 20 5G proves to be a great cost-effective option. Balanced hardware that won't let you down in common uses, battery for a whole day, and support for modern technologies like 5G and NFC. It can be a good choice for those who want a modest smartphone lasting for a few years.
It has a charger with a USB-C cable, a silicone case and the key to open the SIM card drawer in its box—practically a standard among devices of this level among Chinese brands, which is also a positive point.
Also Read: Is Moto e13 Good? The Cell Phone Has A Good Battery